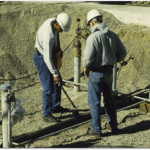 Underground storage systems typically store flammable or combustible liquids that are also toxic.  There are hundreds of thousands of these storage systems in service, and there are millions of human interactions with these storage systems on a daily basis.  As a result, incidents involving releases of fuel from these storage systems are not uncommon, and property damage or personal injury can result.  If you have questions about why a release occurred and who might be responsible, Marcel can very often find the answer.
From relatively small insurance claims to statewide MtBE litigation, Marcel has convincingly argued his client's cases to juries and opposing counsel.  Marcel has detailed knowledge of the history of underground storage systems, how UST equipment works, and industry operation and maintenance practices.  This knowledge, combined with his ability to extract critically important details from mounds of documents, allows him to reach defensible opinions that withstand the scrutiny of the most determined opponents.
Marcel's technical writing experience shows through in his expert reports, allowing him to clearly present explanations of how UST equipment functions and how the incident at issue came about.  His extensive teaching experience allows him to present complex scenarios to jurors who have little background in UST systems in an understandable manner.
Areas of expertise include:
UST overfill and delivery spills

Inventory analysis to determine the timing and volume of a release
Leak detection and tightness testing equipment
Leak autopsy to determine how a release occurred and why